Hi guys it's been a while since I posted pics, so here's what Santa brought.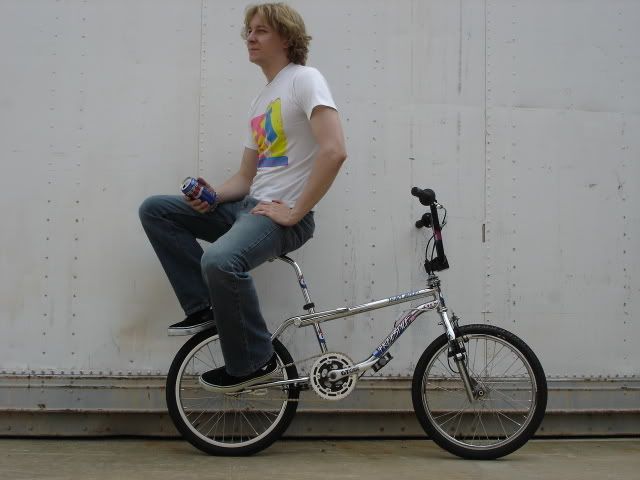 I normally drink Coke, but I had to ask myself... What would Martin Aparijo drink aboard his GT?
So anyway, this is my rider bike. I got tired of staring at bikes that I couldn't ride (because most of them have white rubber and plastic accessories) so I rounded up all of my spare parts that I wouldn't use on my showbikes (there's a story behind every part!) and put this babe together.
I can thank Joejacobi for the inspiration on this one!
When I saw the pics he posted of him riding a chrome 87 team model, I got an itch that just wouldn't go away.
For me to build a rider,
it had to be chrome and it had to have black accessories
In the beginning...
I bought this frame as an almost complete bike just to get the power series cranks the forks and the handle bars for my blue 87 team model. This frame was left over and was a perfect start. I striped it and sent it to the chome platers along with another set of forks from an 89 aggressor (almost identical) but NOS which I got cheap, a NOS pair of Araya 7C rims that I got for US$21 and a Superlace front hub that I actually owned and rode on BITD. That hub is the only part I have from my very first GT, a friend returned it to me after he used it in the 90's.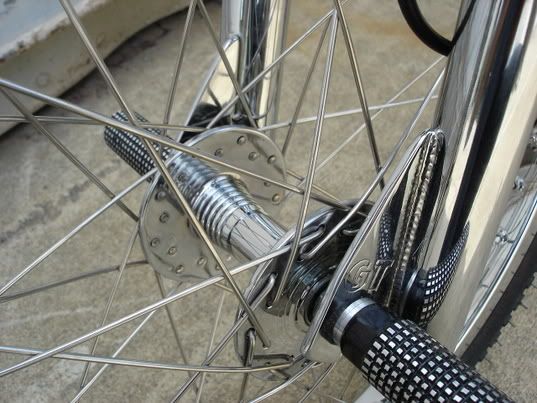 The front GT pegs were old and I re powdered them, then run them through a lathe to remove a small layer of paint to reveal the alloy knurling. I also lathed up the alloy locating washers that hold the axle securley in the dropouts.
My mate at a local bike shop had a NOS 36h Suntour coaster hub that I could use on the back, being chrome, it flows with the front hub.
I managed to find NOS Gt steel pegs for the rear 24Tpi to suit the Suntour axle for US$5 wow!
These power series cranks I found on ebay for US$149 which is half the price I've seen them go for, I was stoked to get a good deal ! I rubbed them back to get that new satin finish. I decided to just use bolts insted of lathing up new endcaps because I plan on riding this one and they're easier to keep tight.
The power disc was totally stuffed... the spindle hole was eccentric and the drivepin hole was twice the size it should be. I rewelded the holes and relathed a new spindle hole and drilled a new drivepin hole then repowdered it.
I'd like to thank SERVA for donating the NOS GT chainring bolts !!
I also used genuine SR SP474 pedals that I found in a bike recycle shop for $5 !!!! God bless them hippies! The pedals have rubber inserts for grip but they were badly brittle and were destroyed when removed from the pedals. That hippie shop just happened to have some fake plastic versions that I ran through a bandsaw to cut some new tread inserts. You gotta use what you can!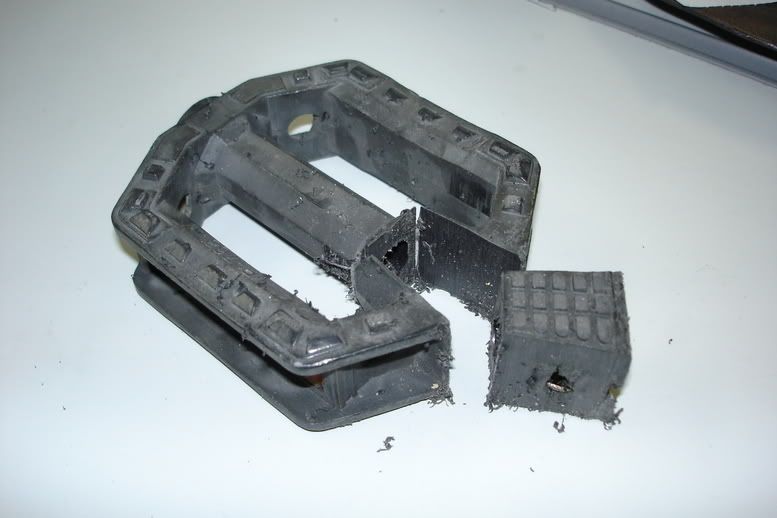 The stem is a fake but looks exactly the same, the bars are actually 1986 versions (slightly different geometry to 87's) and I powdered them black as a temporary measure untill I find some 87's worth chroming.